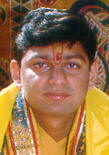 ---
Once Shri Mahaprabhuji was sleeping in Shri Damodardas Harsanij's lap at the base of mount Govardhan. Suddenly Shrinathji came down from his temple on top of the mount. On seeing Shrinathji coming down Shri Damodardasji thought that Shri Vallabh will wake up on hearing the noise coming from Shrinathji's noopur & paayal (ornaments worn on the feet) and stopped Him midway! Even Shri thakorji has been stopped so as not to disturb Shri Vallabh!! This is the epitome of honour for the guru where he (the guru) is given greater importance than even Shrinathji Himself.
In older times the vaishanvas always kept Shri Vallabh between themselves and prabhu as it is Shri Vallabh who has given prabhu to the vaishanavas. Even Shrinathji has told Shri Vallabh that "Any vaishnav who comes to me with your kaani (with Shri Vallabh as the mediator) and offers something with the left hand (without proper discipline) then too I'll happily accept the offering". This very sentence makes it necessary for the vaishanvas to always keep Shri Vallabh between themselves and prabhu but the vaishnavas of today are trying to bypass Shri Vallabh and reach directly to Shrinathji. Many vaishanvas do this because of their ignorance towards Shri Vallabh, their guru. Such vaishanvas think that by merely doing Shrinathji's sewa they can reach upto prabhu. They do not know that the importance of guru (Shri Vallabh) is much more in Pushtimarg as compared to any other sampradya. Modern vaishnavas think that by going to Nathdwara for the darshan of Shrinathji twice or thrice a year is enough for them, they don't go to any bethakji of Shri Mahaprabhuji, Shri Gusainji or even to meet any present Vallabhkul balak, they think it's not important !! They are gravely mistaken because even Shrinathji is not pleased with this attitude, if anyone tries to reach him directly, by-passing Shri Vallabh or his descendants, then even Shrinathji will not accept him as his own. This wrong attitude is confirmed by the deserted Bethakjis and the densely populated haveli at Nathdwara (the vaishnavas go to the place they think is important).
We don't have to do anything special, we only have to do 'guru-bhakti' alongwith doing 'prabhu-bhakti'. We must read the vartas of Shri Vallabh like Nij-vaarta/Gharu-vaarta, etc. and the lectures of the other Goswami Balaks to know the truth about these great acharyas.
---